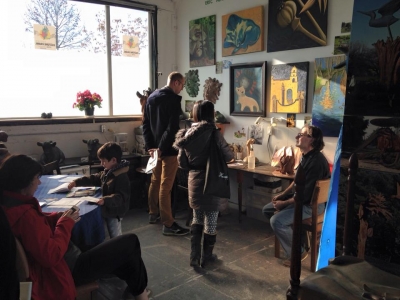 The Arts Factory is thrilled to be taking part on Culture Days, a nationwide celebration of arts and culture!
The Arts Factory is a mixed-use arts facility located in a transformed industrial warehouse, in the cultural district of the False Creek Flats. Our building houses over 21,000 square feet of creative space - a mix of artist studios, workshops, office space and common areas. 
On Saturday, October 1st, 2016 we will offer three BEHIND THE SCENES tours of our building. On each tour, registered participants will have the opportunitiy to learn more about our facility, visit the Great Northern Way Scene Shop and also meet some of the artists who work at The Arts Factory. We'll also encourage you to explore the Vancouver Mural Festival pieces around our building! 
Tours will begin at 1:00 PM, 2:00 PM and 3:00 PM. Please email studio@artsfactorysociety.ca with your desired start time to guarantee a spot!
Participating artists:
Ati Ahkami (Sculpture), Simone Avram (Sculpture), Aimée Henny Brown (Mixed Media), FELT à la main with LOVE (Textiles), Laleh Javaheri (Textiles), Vanessa Lam (Mixed Media), Marion Landry (Painting), Megan Majewski (Painting), Sára J. Molčan (Painting), Eric Neighbour (Painting, Sculpture), Antony Rolland (Painting, Mixed Media), Kemo Schedlosky (Textiles), Catherine Tableau (Painting), Karen Yurkovich (Painting, Mixed Media).
Learn more about Culture Days and other arts & culture activities near you by visiting culturedays.ca.