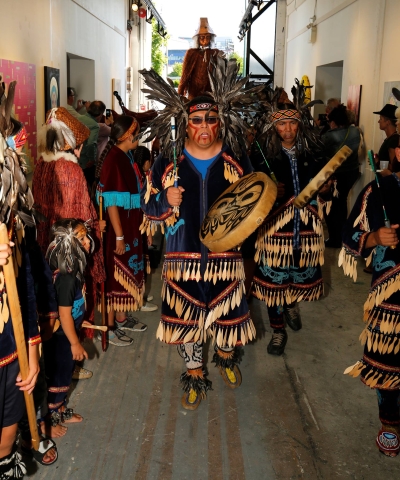 "Vancouver's creative sector is one of the most unique and vibrant in the world, and there is a huge need for affordable artist space in our city.
The Arts Factory is one step the City is taking to strengthen Vancouver's arts and culture spaces and resources, and we're proud of this partnership to transform a City-owned building into an exciting new creative hub for Vancouver."
~ Mayor Gregor Robertson
On July 7, 2017, we were thrilled to officially launch our facility. Located in the renovated art deco warehouse at 281 Industrial Avenue, the Arts Factory is a busy, mixed-use cultural hub that includes 21,000 square feet of workshops, studios, offices and common spaces. The Arts Factory is part of the City of Vancouver's commitment to providing affordable studio space to the Vancouver arts community. We celebrated this innovative creative facility with a welcome and a performance by Tstatsu Stalqaya (Coastal Wolf Pack), a tour of the building including open artist studios, words by Vancouver City Councillor Heather Deal, Regional Director General of Canadian Heritage, Western Region Erica Tao, and the Arts Factory's own Elia Kirby and Marietta Kozack. Oh, and the big guy? That's Mortal Coil Performance Society's giant Coast Salish puppet.
Photo: Tim Matheson